Guest Posts – we all love to read those quirky, interesting posts that pop up on our favorite blogs, don't we??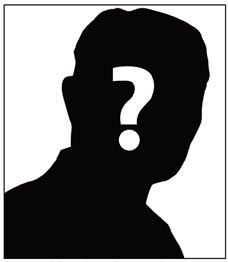 —————————————————————
Well, my goodness, it must be summer. Everyone's going on vacation, enjoying a break from the action. I feel like I should be, too.
So, in order to take a much-needed respite from blogging,
I scoured the world,
looking for the kind of Guest Post
talent that you all appreciate.
——————————————————————-
Here was my criteria:
Someone who is ACTUALLY funny.
These were my first thoughts: 
Main Street Musings? Too busy swimming at the country club.
My Chipmunk Friend? Away at writing conferences, or Late Night shows.
The Maineiac? Drinking PBR and watching kids.
The Man with Half a Face? Answering outsourced 911 calls.

——————————————————————–
That's as far as I got.
Well, since I never asked any of the bloggers above to Guest Post – fear of rejection, of course – you're stuck with Mystery Post-er and my BawBwa Walters-style interview. My apologies in advance.
———————————————————————
Question 1:
Why did you agree to answer these ten questions?
Answer 1:
It wasn't the money, or the fame, or the exposure. This blog didn't provide any of those three incentives. Um, now that I think about that … can we stop the interview now??
Question 2:
You are the producer for Saturday Night Live – you have three host options: John Candy, John Belushi, or Chris Farley. Who would you choose?
Answer 2:
I think I would go with … Bill Murray, for sure. [Ed. Note: That was not one of the choices!]
Question 3:
You could be anybody, dead or alive, who would you want to be, and why?
Answer 3:
Any great artist who still has both ears and no depression issues, one of the presidents who doesn't get shot, or a really good blogger.
Question 4:
Cold Stone ice cream, a nice trendy frozen yogurt with five toppings, or a strawberry daiquiri with an umbrella?
Answer 4:
How many "mix-ins" do I get with the Cold Stone?
Question 5:
What is the best thing about being human?
Answer 5:
That's easy: Opposable thumbs, and winning the lottery!
Question 6:
Do you happen to have a real photo of yourself instead of the "mystery post-er" question mark picture at the beginning of this article?
Answer 6:
I actually brought along a few – sorry my style was so different in the photos, but you get the idea.
I'm really sorry about the mullet photo. I got a little too much sun that day, and might have been a little scared of the photographer. Maybe.
Question 7:
Sorry, lost it there for a second on that last picture.
What is your favorite Summer Olympics event?
Answer 7:
Definitely the hot dog eating. Just amazing how many they consume so quickly.
Question 8:
What famous writer do you most identify with?
Answer 8:
Surely, that would have to be O. Henry. Which was really just the pen name of American writer William Sydney Porter. Who wouldn't want a candy bar named after them. Look what the Baby Ruth did for Babe Ruth.
Question 9:
What is your name, sir?
Answer 9:
I don't really want to give it out publicly like this. Let's just say I'm a bigger name than … um, JK Rowling. Exactly!
Question 10:
The last question, before we put our loyal readers – before this post, anyway – minds to rest from this nonsense.
You become the president of Blogosvania. You can do two things, what do you do first?
Answer 10:
No-brainer: Outlaw fake, silly guest posts, like this.
——————————————————————
Are you having a productive summer?