"Ah wit, where is thy sting. To suffer the slings and arrows of outrageous storytelling."
William Shakespeare (well, not quite).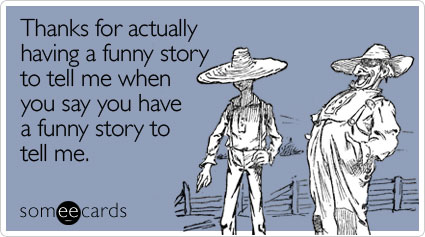 This fact will surprise most people:
I do not come by my incredible mediocre storytelling and wit, naturally. Though it appears effortless forced, my gift of spinning a yarn was not really a gift. It was honed through years of careful observation.
Mom could tell a story.
Like nobody's business.
"I think the difference between a lie and a story is that a story utilizes the trappings and appearance of truth for the interest of the listener as well as of the teller."
John Steinbeck (East of Eden)
I would sit around listening to her when we would go "visiting" other relatives. Not that my uncles, aunts, or any of the other relatives were boring. Because they weren't. But mom, she could spin-it-to-win-it.
And like fine wine, her storytelling only got better with age. Just a few short years ago, MLB and I were soaking up one of her many stories and laughing to the point of crying. The kind of laughter where you can't breathe, and you might even pee your pants … a little.
It was maybe the next trip after that one when we came back to my hometown, Omaha, because of the stroke mom suffered. I, for one, knew she'd bounce back – she was that kind of hearty, Midwestern folk.
But, I felt sorry for me.
Though she has recovered as much as one can from a stroke, it's difficult to get the right words out in the correct order. The brain is fascinating in that regard. She knows the right word, but when she verbalizes it, the wrong one can come out. It's just the way the wires are firing now.
Getting back to me …
I no longer get to hear the rambling build up, dramatic pauses, and the pinpoint delivery of the punchline from mom. Physically, she just can't string together the right words in the right order.
So now it's up to my brain to remember and pass on some of the great stories that she told. I only wish I could do it as well as she did.
It is my loss.
***
Where did you learn about storytelling?