If you think growing up in your neighborhood as a child was rough, raise both hands.
Take a look at your fingers? Do you have all ten?
If you don't, you might want to lower your hands.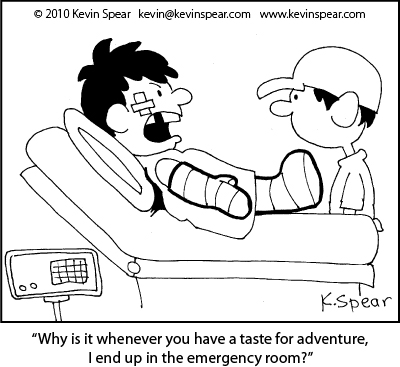 When I look back at my childhood, it's surprising that ANYONE "made it out" alive.
No, it wasn't a crime-infested neighborhood. Homes weren't broken into. And kids weren't roaming the streets at all hours of the night. McGruff, the Crime Dog, wasn't needed in our area.
It's just that in a three city-block space, we must have had more accidents per person than any other city in America. I don't know why the Safety Dog – if there was such a dog, back then – and Smokey the Bear didn't visit every week and Gibbs-slap us all upside-the-head.
*SMACK*
In fact, I'm pretty sure many of today's safety devices on consumer items were developed because of our neighborhood.
And it's no wonder: The adults were about as bad as the kids.
You be the judge based on these occurrences:
1. Adult up the street attempts to pull grass out of the lawnmower chute …
Yes, you guessed it – while the motor and blade were still running – lost a finger.
2. Teenage kid rides down a steep hill on his bicycle, "no-hands" on the handlebars.
Not so bad – if you don't have arms full of glass milk bottles. When he hit that bump and went down, it was NOT pretty.
3. Grease fires – there were several. We kept the Fire Department busy. Those poor guys must have gotten so much practice coming to our neighborhood that when the caller started giving the street name, they automatically knew where to go.
4. This one makes me cringe. We had a couple of moms who got their fingers caught in the old Sunbeam Mixmaster.
Maybe all those kid distractions made them take their eyes off those spinning wheels of delight and destruction.  Whatever caused these accidents, led to some busted up fingers – OUCH!!
5. Playing with matches – I documented one situation where someone started their hand on fire, and then another time where a certain someone *may have been me* started about 5 acres of field aflame (that's a future post!).
"Hello, Mr. Fire Chief, very nice to meet you." Woops!
6. Fingers stuck in the center of those metal glue lids. Um yeah, sometimes medical personnel had to help cut off the lids.
Come on, some of you remember the old paste glue that smelled so delicious that some kids even ate it. The lid was made of steel or tin and looked like the one in the picture below, ONLY it was a big enough hole where you could get your finger stuck in it. Go ahead, shake your head "yes" if you did this. None of us are judging right now.
7. Bayer Children's Aspirin overdoses.
Yes, we had several kids in the neighborhood (possibly one in my own family :)) actually *eat* a whole bottle of those tasty little orange pills.
What?? They tasted like Tang orange drink.
"Welcome to the stomach pump, Billy." I'm confident the "child-proof" medicine lids were invented by someone who knew about our neighborhood.
Don't even get me started on what happened with fireworks!
Maybe "helicopter parenting" isn't so bad, huh?
***
Did you have any incidents like these in your neighborhood?
Links:
http://www.nncc.org/health/only.prevent.acc.html
http://www.iloveindia.com/parenting/childhood-injuries/index.html
http://tlc.howstuffworks.com/family/kids-safety-tips5.htm