Never forget.
Those two words are frequently tossed out in normal conversation:
"I'll never forget that episode of …"
"He (or she) is someone I'll never forget."
It's said so often, that one wonders whether so many things could possibly be remembered.
In this case, I can say with certainty – barring any serious memory loss – that I will never forget Edward Bredbenner.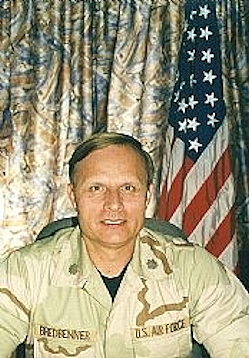 We met in 1986 in Rome, New York, at Griffiss Air Force Base. He was a seasoned enlisted man-turned-officer – a captain, when we were introduced. I was a very "green" 2nd lieutenant. We worked for the toughest colonel in the Air Force – Col. Rondal H. Smith.
Ed knew everything about the aircraft on that flightline: B52's, and KC-135 refueling tankers. And well he would, having been a B52 crew chief during the Vietnam war.
For some reason, he took an interest in my development. I didn't work for him directly, but Eddy (as we would call him off-duty) showed me the ropes on being the best leader and officer one could be.
Here are some of the qualities that I will never forget about Eddy:
Organized
Dedicated
Hard-working
Ambitious
Always learning
One can be all those things, and more, without being the kind of human being he was. And more than anything, it's these characteristics that put him in a league with very few people I've known in my life:
Fair with everyone
A true TEAM player – it was always about the team
Humble – never brought attention, or credit, to himself
Kind and compassionate
Welcoming
A family man
Willing mentor and guide
I will never forget meeting his wife – Lila – a southern woman full of charm, grace, warmth, and a flair for interior design. She was every bit as welcoming as Eddy. We became a part of their extended family over the course of our three years in New York.
We kept in touch over the years. They visited us in England, where Lila added to her wonderful collection of antiques. We exchanged phone calls about our kids and what was happening in our lives.
But I can never forget what Eddy taught me at the beginning of my career. Sometimes we think of those lives that have crisscrossed ours like Halley's Comet, leaving indelible images on our brains. Edward Bredbenner was one of them. So much so that over the course of my career – and my life, for that matter – I've asked myself the question, "What would Eddy do?" in this situation, or that instance.
Somewhere around 2004 or 2005, we lost touch with them. It was the summer of 2009 when I received a voicemail from Lila – Eddy had passed on. Cancer had claimed this great soul in his 57th year (memorial announcement).
I tip my hat, and lift my glass to you, my friend.
Thank you for your 32 years of service to your country.
Selfishly, I'd like to thank you for all you did for me, unknowingly. You left your mark and helped make me a better person.
I will
NEVER
FORGET.
***
Is there someone you will never forget who left a lasting impact on you?