It's Christmas time, and that means reflecting on family, friends, and the true reason for Christmas.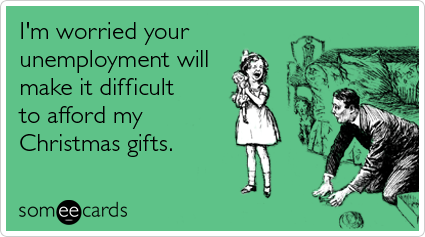 In my mind, and without any intent to be blasphemous, I must go back to my Catholic upbringing and make a confession:
"It has been more than one month since my last blog post …"
Often as we approach Christmas, we look back on the year that's almost over. We find ourselves reflecting on the good times and the bad ones.
What happened in our lives? We occasionally send out a letter updating loved ones about what occurred.
In twelve short months, here's a quick wrap-up of what's happened:
1) Sold our house in Northern California.
2) Packed up the household goods ourselves and moved to our dream location – Southern California. Yes, we have TOO much stuff!
3) I looked for work in Southern California while MLB worked in Northern California (making nearly twice-monthly, 500-mile treks each way, to see me and Duke-the-dog).
4) Realized, after seven months and 200-plus resumes, that Southern California's high unemployment rate and limited number of jobs was not going to provide the necessary livelihood to live there.
5) Sent two resumes to the Midwest (Nebraska – my home state), and got hired within a few short weeks!
6) Movers packed up our household goods, and we moved to Nebraska in early December.
7) I started a new job December 10th. MLB left her job December 15th, and went into retirement.
Signs that God has a sense of humor:
– It became obvious that Nebraska is where we should be, in spite of our dream to live near the ocean.
– Part of my responsibility is to determine whether the workforce should come to work during winter snow conditions – I've never liked snow.
– Our dog LOVES the snow and cold, and he had never seen it before.
– On the way to the interview, we went through one of the worst blizzards I've ever driven in – not fit for man, nor beast.
At one point, I said to MLB, "It's as though the worst was thrown at us, to prepare us for living in the Midwest again." Hmm, anyone sensing a snow theme, here??
This is the aftermath from last week's snowstorm:
It's so interesting how things turn out, especially those things that we least expect.
For example, I was quickly reminded that there's just as much beauty in the open prairie as there is in a sunset over the ocean.
As MLB and I look back at the past year, this Christmas Eve (in our extended stay hotel – didn't see that one coming!), we're not at all where we thought we'd be, but we certainly ended up where we were supposed to be. We've already enjoyed being close to family during the holidays – something we haven't been able to do for many years.
I hope your Christmas / holiday season is a time of warmth, family, friends, and the unexpected.